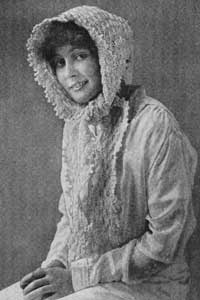 MATERIAL-6 skeins of Woolco Shetland Floss. No. 3 ½ Woolco hook.
Make a chain of 278 stitches; turn into the 4th stitch. Make 4 double crochet, and make 4 chain, catching back into the top of the 4th double crochet; make 3 more double crochet into the same stitch; make 1 single crochet into the 4th chain, and repeat to the end of row.
Make 4 more rows like above.
Next row, commencing at the top of the 6th shell, repeat the shells until within 6 shells from the end.
Now drop 1 shell on every row until there are but 2 shells on the row.
BORDER-Make a shell of 9 double crochet and 4 picots all around.
other patterns in leaflet: