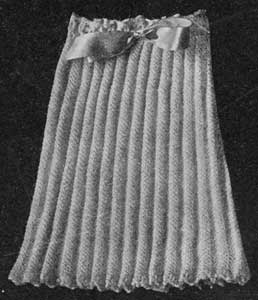 MATERIAL-12 skeins Woolco Knitting Worsted. No. 3 ½ Woolco hook.
Chain 270. Join.
1ST ROW-Single crochet.
2D ROW-*1 single crochet, taking both loops, in each of first 3 stitches, 3 single crochet in next stitch, 1 single crochet in each of next 3 stitches, taking back loop, skip 2.* Repeat around skirt.
Repeat 2d row until skirt is the desired length.
If a vent is desired, work the last 4 or 5 inches, breaking off at the end of each row.
Finish with a picot edge around the bottom, and 1 row of single crochet and 1 row of double crochet, for ribbon or rubber, around the top.
other patterns in leaflet: