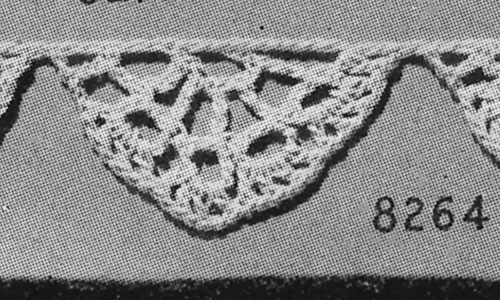 Doilies lead a charmed dual life, for they're pretty as well as useful! Wherever they appear throughout the home, they create an air of charming femininity that suggests the daintiness of the person who made them!
Use
Clark's O.N.T. or J. & P. Coats Mercerized Crochet, sizes 10 to 60.
Clark's O.N.T "Brilliant".
Clark's O.N.T. or J. & P. Coats Pearl Cotton, size 5.
Two-color edging—suggest Sport Green and Yellow.
To begin, ** ch 16, d c in 10th ch from hook, ch 9, turn. Tr in d c just made, * ch 7, d c in tr just made, skip 1 ch of ch-10 loop, tr in next ch. Repeat from * 3 more times. Ch 2, skip 2 ch, s c in next ch, ch 2, skip 2 ch, d c in last ch, ch 1, turn. Into each ch-7 loop make: 4 d c with ch-1 between each d c. Then make d c, ch 1, d c in ch-9 sp. Repeat from ** for length desired. Break off.
other patterns in leaflet: