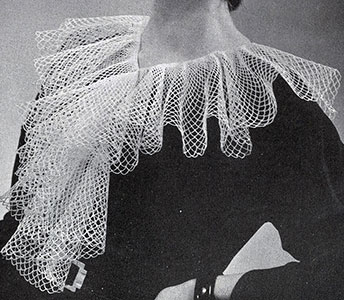 Materials: Clark's O.N.T. (7 balls) or J. & P. Coats (5 balls) Mercerized Crochet, size 40, White. Milward's steel crochet hook No. 9.
Beginning at neck, make a chain 1-yard long, turn. 1st row: D c in 4th ch from hook, and d c in each st of foundation ch until 31 inches of d c are made. Turn. 2nd row: * Ch 4, s c in next d c, repeat from * to end of row. Ch 6, turn. 3rd, 4th and 5th rows: Work ch-4 loops across, and ch 6 to turn at end of each row. 6th to 9th rows incl: Work ch-5 loops across, ch 7, turn. 10th to 13th rows incl: Work ch-6 loops across, ch 8, turn. 14th to 17th rows incl: Work ch-7 loops across, ch 9, turn. 18th to 21st rows incl: Work ch-8 loops across, ch 10, turn. 22nd to 32nd rows incl: Work ch-9 loops across, ch 11, turn. Starch collar lightly and press.
This collar offers unusual opportunities for varying the neckline of your frock. Because of the adaptability of the design, you will find that you can drape this with as much success on a square neckline as on a round or a V. Caught in place with tiny clips, you can make it as dressy or as tailored as you wish. As pictured here, the opening is at the back with collar caught in place around the neck and down the front to the base of the ruffle.
other patterns in leaflet: