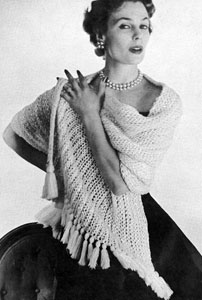 SIZE: Approx. 20 x 72".
MATERIALS:
SPINNERIN SPARKLE TWIST
4, 2 oz. sks. (A) Princess White 355
SPINNERIN Shrink-Resistant CANDOUR
3, 3 oz. sks. (B) White 801
Wooden Crochet Hook No. 13
Other color suggestions:
Shining White 350 (A);
White 801(B);
Evening Pink 351—Baby Pink 803;
Honey Beige 354—Beige 819.
GAUGE: 5 sts = 2".
NOTE: Work loosely, using 2 strands of yarn throughout entire stole.
PATTERN:
Sl St in back loop of each st.
With A make a ch about 85" long. Turn. Work in Pat St for 2 rows, then change to B and work in Pat St for 2 rows. Continue working this way, alternating the yarns every 2 rows until stole measures desired width; ending with 3 rows of A. Do not block.
TASSELS: Make with B. See patternbook page.
other patterns in leaflet: