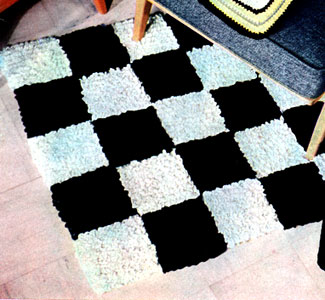 Materials Required: AMERICAN THREAD COMPANY "AUNT LYDIA'S" STAR SPUN, Article 235
17 skeins #1 Gold (White with Gold Metallic) and
"AUNT LYDIA'S" HEAVY RUG YARN, Article 235
15 skeins Black or colors of your choice.
Aluminum crochet hook size G.
Each square measures 6 inches x 6 inches.
35 squares 5 x 7 are required for rug measuring 30 inches x 42 inches.
With Black ch 19 loosely, s c in 2nd st from hook, 1 s c in each remaining st of ch, ch 1, turn.
2nd Row. 1 double loop st in each s c (double loop st: insert hook in st, wind yarn twice around index finger, draw yarn through, pulling yarn from under finger, drop loop from finger letting loops fall to right side of work and complete s c), ch 1, turn.
3rd Row. 1 s c in each st, ch 1, turn. Repeat the last 2 rows 7 times.
18th Row. Same as 2nd row, cut yarn.
Work 16 more Black squares in same manner.
Work 18 Gold squares in same manner. Sew squares together as illustrated, having a Gold square in each corner.
Other great patterns from Today's Crochet Book, Book No. 115.
Crochet Patterns
Crocheted Hat & Bag
Checkerboard Rug
Checkerboard Pillow
Loop Stitch Rug
Toilet Tank Tray & Seat Cover
Oval Classic Rug
Striped Rug
Striped Pillow
Knitting Bag I
Woven Luncheon Mats
New Home Look Rug
New Hat & Bag Look
Triangle Pillow
Knitting Bag II