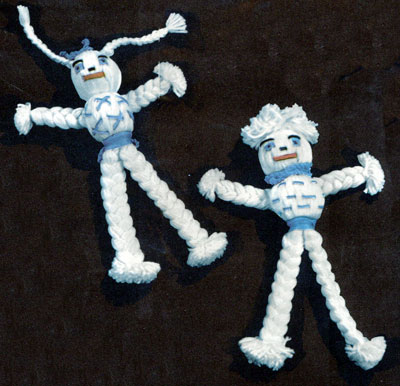 MATERIALS: Kentucky Soft Spun Yarn, No. 113—6 skeins white or ivory; 1 skein Colonial Blue; 1 yd. each red and black yarn or embroidery floss
(For each doll): Open 1 skein and cut thru at bottom loop. Remove 14 strands and roll into soft ball for stuffing head. Set aside another 4 strands for tying. ARMS: From remainder of skein cut a 34" length, fold double, and tie at fold. Separate into 3 equal parts and braid. Tie ends. (Use remaining pieces for stuffing tummy.) BOY'S HEAD: Open 2 skeins and cut through loops at top and bottom. Wrap one of the 4 tying strands around yarn at a distance of 2½" from top cut. Insert soft ball of 14 strands and spread yarn evenly around ball in back and front. Squeeze tight below ball to form neck, and wind another of the tying strands 3 times around neck. Tie. GIRL'S HEAD (all other directions are the same): Tie 2 skeins to­gether securely to form top knot. Cut skeins at bottom opposite top knot. Remove 9 full-length strands for braids. Fold these 9 strands double and tie about ½" from folded end. Divide into 3 sections and braid. Tie ends; trim. Insert hair braid under top knot, then insert ball made with the 14 strands. Spread yarn evenly and tie at neck as for boy's head. BODY: Insert arm braid btw body strands below neck. Insert tummy stuffing. Spread yarn evenly around front and back. Tie with strand of yarn to form waist (wind 3 times around body). LEGS: Divide remainder of yarn below waist into 2 equal parts. Separate into 3 even sections and braid. Tie securely, and trim. WAIST SASH: Double over 2 yds. of blue yarn and wind around waist to form sash about 1" wide. Tie ends, trim. BOWS: Double over 3 yds. of blue yarn and twist very tightly. Fold in half again and allow strands to twist back and form soft cable. Insert in girl's sash at back and tie bow. Make similar cable for boy's neck bow and girl s hair bow. CHEST AND BACK TRIM: With large-eye needle weave blue yarn horizontally in and out across chest and back. For girl, criss-cross blue strands. FEATURES: Use blue yarn to form eyes and black yarn or embroidery floss for eyebrows, pupils of eyes, and nose. Embroider mouth in outline stitch with red.
Other great patterns from New Designs for Every Purpose, Book No. 3.
Knitting Patterns
Variegated Knitted Rug
Wee Willie Winkie Infant Soaker with Bib
Golden Metallic Fringed Stole
Crochet Patterns
Cuff 'n Pocket Stole
Two-Toned Topper
Bib 'n Tucker Collar & Belt
Ace High Luncheon Set
Turnabout Apron/Cape
Top Knot Turban & Bag
Pinwheel for Pots Potholder
The Williamsburg Rug
The Lexington Rug
Tie-On Chair Seat
Cap for Cottons
Variegated Crocheted Oval Rug
Craft Patterns