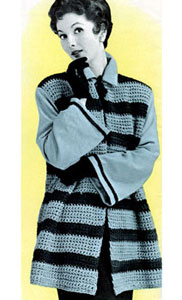 (Size 16—¾ Length)
MATERIALS: 25 Skeins Kentucky Soft Spun Yarn No. 113 (12 skeins one color; 13 skeins contrasting)—Bone Crochet Hook No. 6 (Kentucky Soft Spun "decorative" Metallic Yarn, No. 311, may also be used)
¾ yd. material for sleeves and collar (wool, velveteen, corduroy) Material for lining
GAUGE: 3 sts = 1"; 3 rows = 1"
Work single crochet throughout. Make coat in four pieces: R & L front, R & L back (with center seam). FRONT: Ch 33. Work sc across row.Ch 1 to turn. Work sc in every st across, picking up front loop only (32 sts). Work 6 rows. Change color of yarn every 6 rows until piece measures 18". Dec 6 sts at armhole edge; then dec 1 st every other row 4 times. Work even until garment measures 8" from first dec. Dec 4 sts at neck edge. Dec 1 st every other row twice. Dec 5 sts 3 times at shoulder. Work opposite side to correspond. BACK: Ch 43. Work same as front, keeping one edge straight, but dec 1 st every 4th row at opposite edge (center back seam edge). When work measures 18" start dec at armhole edge as for front. Keep dec center back seam edge 1 st every 4th row. When armhole measures same as front dec 4 sts 3 times. (The remaining sts form neck edge). Work other half of back to corre­spond. Join seam edges to form flared back with center seam. SLEEVES AND COLLAR: Follow any coat or jacket pattern. LINING: If lining is desired, cut to fit separate coat pieces before they are assembled. FIN­ISHING: Sew back and front pieces together at armhole edge. Ease in sleeves, and sew in place. Attach collar. Steam and press coat. Sew in lining. TIE: Crochet a chain about 12" long and sew to collar seam at cen­ter back of coat.
Other great patterns from New Designs for Every Purpose, Book No. 3.
Knitting Patterns
Variegated Knitted Rug
Wee Willie Winkie Infant Soaker with Bib
Golden Metallic Fringed Stole
Crochet Patterns
Cuff 'n Pocket Stole
Two-Toned Topper
Bib 'n Tucker Collar & Belt
Ace High Luncheon Set
Turnabout Apron/Cape
Top Knot Turban & Bag
Pinwheel for Pots Potholder
The Williamsburg Rug
The Lexington Rug
Tie-On Chair Seat
Cap for Cottons
Variegated Crocheted Oval Rug
Craft Patterns