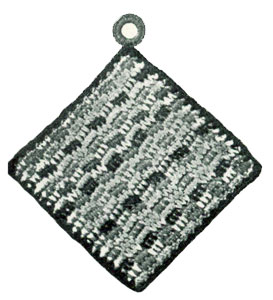 Potholder No. 16
MATERIALS REQUIRED:
Art. 600 Lily Cotton Yarn Skeins or
Art. 930 Sugar 'N Cream Yarn Balls
Short left over lengths of many colors.
Crochet Hook No. 0.
With one color ch 31, sk 1 ch, sc in next 30 ch. ROW 2—Ch 1, turn, * sc in next 3 sc, sc down at base of next sc (long sc made), (a long sc over next sc) twice. Repeat from * 4 times. ROW 3—Cut yarn 3" long. Starting 3" from end of next color, draw it thru lp on hook (ch-1 made). Tie 3" ends of 2 colors tog. in a hard double knot. Turn, hold 3" ends along top of row and work over them with (sc in next 3 long sc, long sc over next 3 sc) 5 times. Repeat Row 3 until work is square, making each row a different color. EDGE—With Black work 2-sc shells around holder. Join and fasten off. Cover a bone ring with sc and sew to one corner. Steam and press dry on back thru a cloth.
Other great patterns from Lily Pot Holders and Oven Mitts, Book 59:
Crochet Patterns
Miss America Potholder
Honeymoon Cottage Potholder
Easter Bonnet Potholder
Sun Flower Potholder
Orange Blossom Time Potholder
Jingle Bells Pocket Potholders
Scottie Potholder
Owl Pocket Potholder
Wynken, Blynken and Nod Potholder Set
On the Square Pocket Potholder
Rose Pinwheel Potholder
Flower Garden Oven Mitts
Butterfly Potholder
Famous Sugar 'N Cream Potholders
Daffodil Potholder
Bright and Reversible Potholder