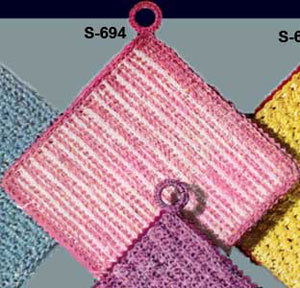 COATS & CLARK'S O.N.T. "SPEED-CRO-SHEEN" MERCERIZED COTTON, Art. C.44: 1 ball of No. 1 White; and
J. & P. COATS "KNIT-CRO-SHEEN" METALLIC, Art. A.64: 1 ball of M.46-A Mid Rose.
Milwards Steel Crochet Hook No. 2/0 (double zero).
Pink felt...Bone ring.
Starting at lower edge with White, make a chain 7 ½ inches long. 1st row: Sc in 2nd ch from hook and in each ch across until row measures 6 ½ inches. Cut off remaining chain. Ch 1, turn. 2nd row: Sc in each sc across. Ch 1, turn. Repeat 2nd row until piece is square. Break off. Holding a double strand of Mid Rose in back of work, insert hook from front of work through first sc on first row and draw a loop through, sl st loosely (so piece does not shrink) in each sc across first row. Turn. Draw loop through first st on next row and work back across row. Continue in this manner until sl sts have been made on each row. Break off.
EDGING ... 1st rnd: Still working with a double strand of Mid Rose, attach thread to same place where Mid Rose was attached, 3 sc in same place, sc closely around, making 3 sc in each corner. Join to first sc. 2nd rnd: Sl st in each sc around. Break off.
Line with felt. With double strand of Mid Rose, sc closely around bone ring. Sew in place.
Other great patterns from Pot Holders, Book 312:
Crochet Patterns
Funny Face I Pot Holder
Funny Face II Pot Holder
Funny Face III Pot Holder
Funny Face IV Pot Holder
Funny Face V Pot Holder
Building Blocks Pot Holder
High Hat Pot Holder
Lion Pot Holder
Polar Bear Pot Holder
Leopard Pot Holder
Black Panther Pot Holder
Woven Plaid I Pot Holder
Woven Plaid II Pot Holder
Woven Plaid III Pot Holder
Lucky Penny Pot Holder
Sea Shell Pot Holder
Christmas Ball Pot Holder
Banana Bunch Pot Holder
Royal Crown Pot Holder
Home, Sweet Home Pot Holder
Tic-Tac-Toe Pot Holder
Poinsettia Pot Holder
Blue Metallic Pot Holder
Rose & White Pot Holder
Yellow Metallic Pot Holder
Spanish Red Pot Holder
Shaded Purples Pot Holder
Blue & White Pot Holder
Ecru & Green Pot Holder
Fenella the Fish Pot Holder
Wagon Wheel Pot Holder
Grandpa's Clock Pot Holder
Bowl of Peaches Pot Holder