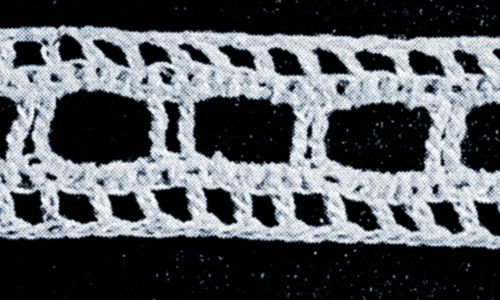 Materials Suggested –
AMERICAN THREAD COMPANY "STAR" or "GEM" MERCERIZED CROCHET COTTON Sizes 20 to 70
Make a ch a trifle longer than desired, tr c in 5th st from hook, * ch 4, skip 4 sts, 1 tr c in each of the next 2 sts, repeat from * to end of ch or length desired. (Cut off remainder of ch) ch 1, turn.
2nd Row. 1 s c in each tr c and 4 s c over each loop, ch 4, turn.
3rd Row. Skip 1 s c, d c over next s c, ch 1 and repeat from beginning. Repeat 2nd and 3rd rows on other side of beading.
other patterns in leaflet: