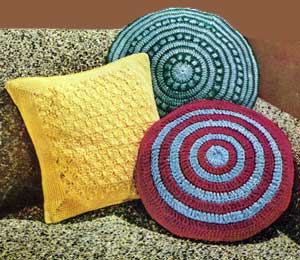 COATS and CLARK'S O.N.T. "Speed-Cro-Sheen" MERCERIZED COTTON, Art. C.44: 6 balls of No. 10-A Canary Yellow.
Milwards Steel Crochet Hook No. 2/0.
A foam rubber pillow, 14 inches square.
GAUGE: 1 shell and 2 sc make 1 ¾ inches; 1 shell row makes 1 inch.
Starting at bottom, make a chain 12 inches long. 1st row: Sc in 2nd ch from hook, * skip 2 ch, 5 dc in next ch (shell made), skip 2 ch, sc in next ch. Repeat from * across until there are 7 shells on row, ending with an sc, skip 2 ch, 3 dc in last ch (half shell made). Cut off remaining chain. Ch 1, turn. 2nd row: Sc in first dc, * shell in next sc, sc in center dc of next shell. Repeat from * across, ending with half shell in last sc. Ch 1, turn. Repeat 2nd row until piece is square.
BORDER ... 1st rnd: Sc closely around, making 3 sc in each corner. 2nd rnd: Sc in each sc around, making 3 sc in center sc of each corner. Repeat 2nd rnd until piece measures 14 inches square. Join and break off.
Make another piece the same way. With wrong sides facing and working through both thicknesses, attach thread to any corner, sc in each sc around three sides, insert pillow and sc across the remaining side. Join and break off.
Other great crochet patterns from Quick Crochet.
Crochet Patterns
Quick Crochet Rug
Red and Yellow Pot Holder
Red and White Pot Holder
Oblong Casserole Jacket
Round Casserole Jacket
Jeweled Pillbox
Pixie Hat
Convertible Brim Hat
Beach Bag
Drawstring Bag
Commuter's Bag
Carry-All Bag
Place Mats & Chair Pad Covers
Square Yellow Pillow
Claret and Aqua Pillow
Killarney and Aqua Pillow
Bathroom Rug
Open Mesh Slippers
Hairpin Lace Belt
Ballet Slippers