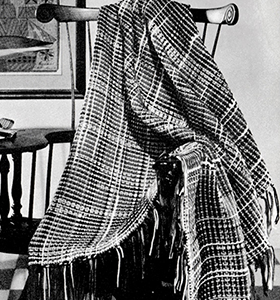 No knowledge of knitting or crocheting required … all this afghan entails is darning yarn through curtain scrim.
Afghan measures 44 x 55 inches after weaving (excluding fringe).
COATS & CLARK'S RED HEART KNITTING WORSTED, 4 Ply, Art. E. 234 (4 oz. "Tangle-Proof" Pull-Out Skeins): 3 skeins each of No. 971 Palette and No. 909 Scarlet.
48 x 65 inches of Rayonet Scrim.
A long tapestry needle.
PROCEDURE …
Turn under two rows of sps across each short side and baste in place.
Turning under 3 rows of spaces across one selvedge (weaving is worked through both thicknesses of hem) place fabric on a curtain stretcher, or over a flat surface, weighting ends.
Overlap 3 rows of sps when joining fabric to obtain desired width.
HORIZONTAL WEAVING … Cut strands about 80 inches long. Starting at hem edge and leaving 7 inches free at each side for fringe, weave twice through each row of spaces as shown in diagram. The first 5 rows are woven with Palette, the next 5 rows with Scarlet. Repeat these 10 rows until 15 Palette stripes have been woven, turning under 3 rows of spaces on last stripe as for starting edge.
VERTICAL WEAVING … Weaving two strands under and over the double strands of horizontal rows, make 5 rows with Palette and 5 rows with Scarlet alternately.
FRINGE … Knot 4 strands together (close to edge) around entire edge. Trim ends.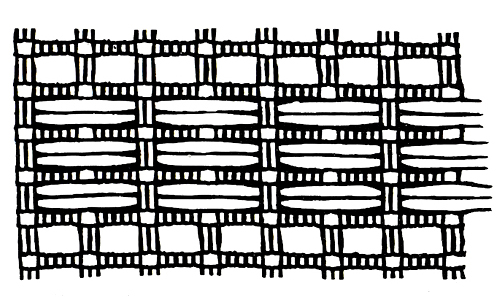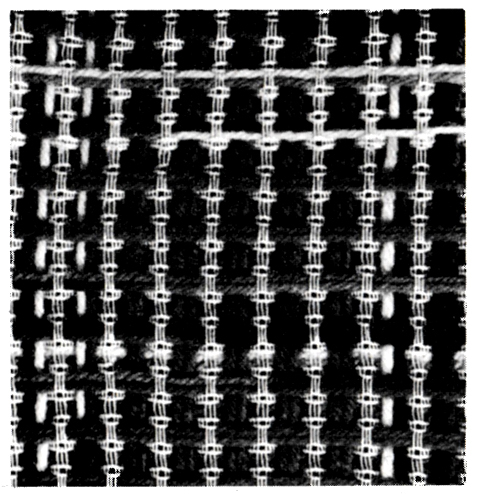 other patterns in leaflet: