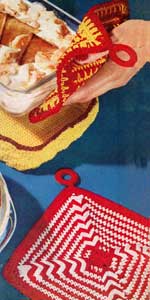 COATS and CLARK'S O.N.T. "Speed-Cro-Sheen" MERCERIZED COTTON, Art. C.44: 1 ball each of No. 10-A Canary Yellow and No. 126 Spanish Red.
Milwards Steel Crochet Hook No. 2/0.
A bone ring.
Starting at bottom with Canary Yellow, make a loose chain 6 inches long. 1st row: Sc in 2nd ch from hook, sc in each ch across until row measures 5 ½ inches, having an even number of sc, then insert hook in last ch, draw loop through, drop Yellow, pick up Red and draw through remaining loops on hook, thus changing color. Ch 1, turn. 2nd, 3rd and 4th rows: Sc in each sc across. Ch 1, turn. Do not turn at end of 4th row. 5th row: Draw up a loop of Yellow in 1st Red sc, ch 1, sc in same sc, * insert hook in next sc 3 rows below (first Red row) and draw loop through to height of row in work, thread over and draw through both loops on hook (long sc made), sc in next sc. Repeat from * across, draw dropped loop of Red through Yellow loop—always change color in this manner. Ch 1, turn. Repeat 2nd to 5th rows incl until piece is square, ending with 5th row. Break off.
BORDER ... 1st rnd: Attach Red to any corner, sc closely around, having same amount of sc on each side and one sc in each corner. 2nd, 3rd and 4th rnds: Sc in each sc around, making 3 sc in center sc at each corner. At end of 4th rnd, join and break off. 5th rnd: Attach Yellow to first sc at any corner, sc in same place, make a long sc in center sc of 3-sc group on 2nd rnd, (sc in next sc, long sc in same sc) twice; * sc in next sc, long sc in next sc on first rnd. Repeat from * around, working corners as before. Join and break off.
Make another piece the same way, reversing colors. With wrong sides facing, attach Red to any sc and, working through both thicknesses, sc in each sc around. Join and break off. With Red sc closely around bone ring. Sew in place.
Other great crochet patterns from Quick Crochet.
Crochet Patterns
Quick Crochet Rug
Red and Yellow Pot Holder
Red and White Pot Holder
Oblong Casserole Jacket
Round Casserole Jacket
Jeweled Pillbox
Pixie Hat
Convertible Brim Hat
Beach Bag
Drawstring Bag
Commuter's Bag
Carry-All Bag
Place Mats & Chair Pad Covers
Square Yellow Pillow
Claret and Aqua Pillow
Killarney and Aqua Pillow
Bathroom Rug
Open Mesh Slippers
Hairpin Lace Belt
Ballet Slippers