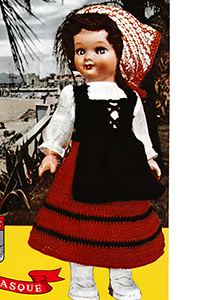 As if the luxurious coastal area were a threatening invader, the hack country folk of Pays-Basque appear to be fighting to maintain the original character of their Province. Bayonne, the largest city, has managed to keep its inherited charm while, in contrast, Biarritz has become one of the most modern of seacoast resorts.
Typical of the unique architecture of this Province is the church of St. Jean-de-Luz where Louis XIV and Marie Thérèse were married. Equally individualistic is the dialect of these people.
Pierre Loti, the writer, lived in Ascain and used the region as background for his novels. Loti depicts the people as quiet, withdrawn, and somewhat inclined to be suspicious.
A moderate climate encourages a variety of crops and permits year round grazing of live stock.
From this Province comes the trademark of the true Frenchman—the Bérèt Basque.
INSTRUCTIONS PAYS BASQUE
MATERIALS: D•M•C Pearl Cotton, Art 116D, Size 5: 2 balls Turkey Red No. 321, 1 ball Black No. 310, 1 ball Red No. 350.
D•M•C Pearl Cotton, Art. 116D, Size 8: 1 ball White.
Steel Crochet Hooks, Size 5 and Size 8.
SKIRT: The skirt is worked back and forth in one piece with a seam in the back. With Red No. 321 and Size 5 hook, ch 50. Work 5 rows of sc. Work 1 row of dc. Alternate 1 row of sc with 1 row of dc increasing on next row in every other stitch. Then increase in every 10th stitch on every other row. Work until skirt measures desired length (about 4½" finished). At the same time work two stripes of 2 rows each, 4 rows apart; end with 4 rows of Red. Sew seam leaving a 2" opening at top. Close with a snap.
WAIST: With Black and Size 5 hook, ch 42. Work 6 rows of dc. For fronts, work 3 rows across first 10 and then 3 rows across last 10 sts. For shoulder straps, skip first 5 sts then work 10 rows across next 5 sts; work other side to correspond. For back, work 3 rows across center 15 sts. Sew straps to back and make a tiny cord for front lacing.
APRON: With Black and Size 5 hook, ch 90. Work 3 rows of sc. Work 1 row of dc across center 14 sts increasing in every stitch. Continue in dc increasing 4 sts on 8th and 11th (last) row. Work 1 row of hdc around the three sides.
KERCHIEF: With White and Size 8 hook, ch 50. Work 25 rows of dc or the number of rows needed to make a square. Work 1 row of Red No. 350 around all edges—work 4 dc in each corner to keep them square. With Red, embroider with an outline stitch alternating with a row of cross stitch following the lines of each row.