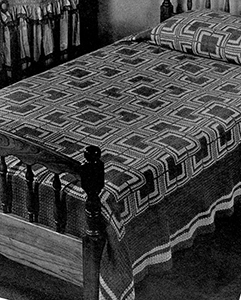 MATERIALS REQUIRED
American Thread Company "De Luxe" Mercerized Crochet and Knitting Cotton
20 Balls Beige.
40 Balls Rose.
Steel Crochet Hook #7.
Each motif measures about 4 inches—288 motifs are required for entire spread.
MOTIF. With Rose ch 19, d c in 4th st from hook, skip 2 sts, sl st in next st, * ch 3, d c in same space with sl st, skip 2 sts, sl st in next st, repeat from * 3 times ending row with s c, ch 3, turn.
2nd Row. D c in s c, s c in 3 chs of next shell, * ch 3, d c in same space, s c in ch of next shell, repeat from * to end of row, ch 3, turn and repeat 2nd row 6 times. Attach Beige in same space turn and work a row of shells, without turning work, ch 3, d c in last s c made and s c into shell of previous row, this forms a corner, all corners are worked in same manner. Work 5 shells on side of Motif, spacing them evenly, ch 3, turn and across the 2 sides work 2 more rows in Beige, then work 2 rows in Rose, 2 rows in Beige, 1 row in Rose and 1 row in Beige. With Rose work 28 s c at each side and 3 s c in each corner.
Sew squares together having 4 squares with dark corners together and 4 squares with striped corners together and arrange as illustrated.
EDGE. Work in shell stitch on three sides of spread, 29 rows in Rose, 3 rows Beige, 3 rows Rose, 6 rows Beige, 6 rows Rose. Around entire spread work one row of shells in Rose.
This spread may be made in "Star" Pearl Cotton, Size 5.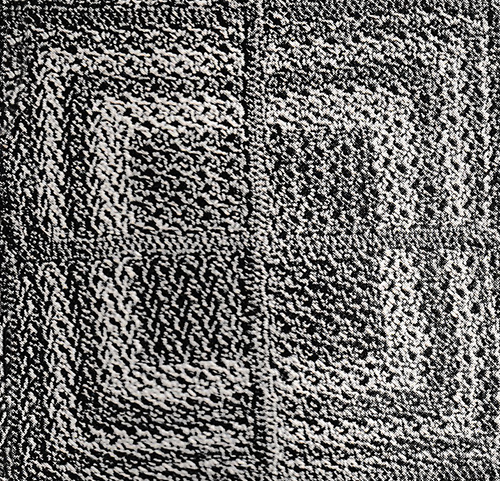 other patterns in leaflet: