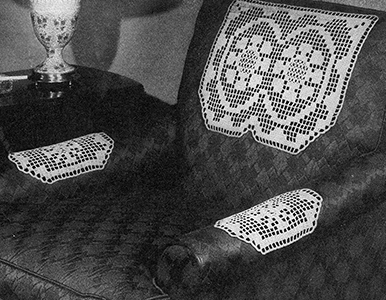 Materials Required.
American Thread Company "Trojan" or "Puritan" Crochet Cotton, White, Ecru, Cream or Beige.
1 500-yd. Ball will make the entire set.
Steel Crochet Hook No. 7 or 8.
Giant Mesh is made in tr c, 5 tr c are required for each single solid mesh and 4 tr c for each additional solid mesh.
For an open mesh—Ch 3, skip 3 sts and tr c in next st.
The stitch in center of the flower designs are worked in cross trebles as follows; thread over hook twice, insert in same space with last st and work off two loops, thread over twice, skip 3 sts, insert hook in next st and work off all loops 2 at a time, ch 3, d c in center of cross treble, this completes one cross treble st.
To decrease a mesh—* Work to within the last 2 meshes, thread over 3 times, insert in the tr c which completes the next mesh and work off all loops 2 at a time, this brings the thread in right position for the decrease in next row, ch 7, turn and work a mesh and repeat from *.
To turn on an open mesh—Ch 7.
CHAIR BACK. Ch 175, work first tr c in 11th st from hook, ch 3 and continue working back and forth according to diagram.
ARM RESTS. Ch 27 work 1st tr c in 11th st from hook and work back and forth according to diagram.
To increase at beginning of row—Ch 11, tr c in 1st tr c.
To increase at end of row—Ch 3, d tr c in base of last st made.
Finish all edges of the set with a row of s c working 4 s c in each mesh and 8 s c in corners. This set will be equally attractive made of any of the following threads; "De Luxe" Mercerized Crochet and Knitting Cotton, "Star" Pearl Cotton size 5, "Clover" Knitting and Crochet Cotton, or "Star" Crochet Cord.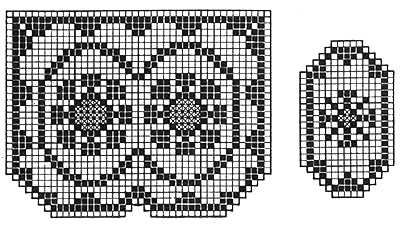 other patterns in leaflet: