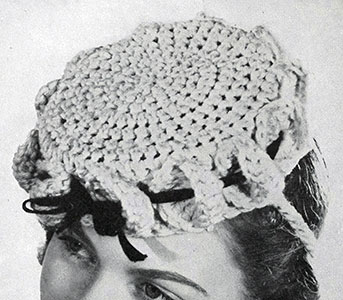 MATERIALS:
CLARK'S O.N.T. COTTON RUG YARN, 1 ball of any color.
Bone Hook No. 8.
20 inches of millinery wire.
1 yard of grosgrain ribbon, ½ inch wide
Starting at center of Crown, ch 4. Join with sl st. 1st rnd: 8 sc in ring. Do not join rnds. 2nd rnd: 2 sc in each sc around (16 sc). 3rd rnd: Sc in each sc around. 4th rnd: 2 sc in each sc around (32 sc). 5th rnd: * Sc in next sc, 2 sc in next sc. Repeat from * around (48 sc). 6th and 7th rnds: Sc in each sc around. Join. 8th rnd: Overlap edges of wire 1 inch and wind a thread around the overlapped edges until ends are thor­oughly covered. Tie thread ends securely. Holding wire at top of last rnd and working over it in order to conceal it, make sc in each sc around. Work 7 more rnds of 48 sc. At end of last rnd, sl st in next 2 sts and fasten off.
FLOWER (Make 12) … To begin, ch 6. Join with sl st. Then ch 3, 15 dc in ring. Join with sl st. Fasten off.
Sew flowers evenly around sides of hat at top and bottom edges.
Run ribbon through the center of each flower and tie ends into a bow at front of hat.
BACK STRAP … With 2 strands of yarn make a chain 12 inches long. Do not fasten off. Try hat on and adjust strap to correct size. Sew strap in place.
other patterns in leaflet: