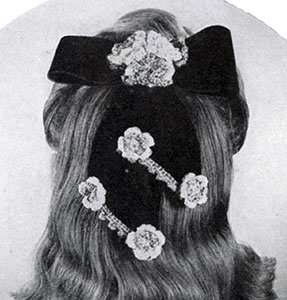 MATERIALS:
J. & P. COATS or CLARK'S O.N.T. PEARL COTTON, size 5, 1 ball each of Indian Pink, Hunter's Green and Ecru.
Steel Crochet Hook No. 2.
¾ yard velvet ribbon, 3 inches wide.
A small comb.
Divide each color into 2 parts and use thread double throughout.
TABS … Cut 2 pieces of ribbon, one 5 inches long, the other 6½ inches long. Cut diagonally across one end of each piece to form a point.
PICOT EDGING … With Green ch 24. Work sc in 2nd ch from hook, * ch 4, sc in next 3 ch. Repeat from * across, ending with ch 4, sc in last ch. Fasten off. Sew starting chain of this piece to diagonal edge of one of the Tabs. Finish end of other Tab in same way.
SMALL FLOWER … With Indian Pink, ch 4. Join with sl st to form ring. Ch 1, * in ring make sc, ch 2, 3 d tr and ch 2. Repeat from * 4 more times (5 petals). Join and fasten off. For Cen­ter, with Ecru, ch 2. In 2nd ch from hook make (sc, ch 3, sc in 3rd ch from hook) 6 times. Join and fasten off. Sew Center to Flower with long stitches, using Indian Pink thread. Make 3 more Flowers same as this. Sew a Flower to both ends of Picot Edging on each Tab. Place short Tab on top of long Tab and sew them together, shirring top edges in to measure 1½ inches.
BOW … Fold remaining ribbon into 2 flat loops and sew, shirring across center.
LARGE FLOWERS … With Indian Pink, ch 4. 1st rnd: In 4th ch from hook, make 8 dc. Join with sl st in top st of 1st ch. 2nd rnd: In same place as sl st make sc, * ch 2, 3 d tr, ch 2; sc in next st. Repeat from * around (9 petals).
Join and fasten off. Using Ecru, make a small flower. Sew small flower to Large Flower with Pink, using long stitches. Make a piece of Picot Edging, joining ends to form ring. Sew joining to center back of Large Flower to form a leaf. Make 2 more Large Flowers same as this.
Group Large Flowers as in illustration and sew to center of velvet bow. Sew Tabs to underside of Bow. Sew securely onto comb.
other patterns in leaflet: