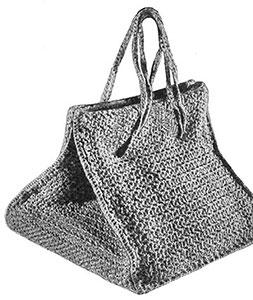 MATERIALS:
J. & P. COATS KNIT-CRO-SHEEN, 5 balls of any color.
Steel Crochet Hook No. 1.
½ yard of quilted satin for lining.
Use a double thread throughout.
To begin, make a chain 8 inches long. 1st row: Sc in 4th ch from hook, * skip 1 ch, in next ch make dc and sc. Repeat from * across. Ch 3, turn. 2nd row: Sc in 1st sc, * in next sc make dc and sc. Repeat from * across. Ch 3, turn.
Repeat the 2nd row until piece is an exact square. Fasten off. Make 4 more squares like this. Pin the starting chain of each of the last 4 squares to the four sides of 1st square. Then, working through both thicknesses, work sc across all sides, thus joining the squares. Fasten off. Pin the side of each square to adjacent square and join sides as lower edge was joined. Place a square of thick cardboard inside on the bottom of bag.
For lining join 4 squares of quilted satin and make 2 eyelets on each side 2 inches down from top and 2 inches in from each side (8 eyelets in all). Sew lining to bag. Cover bottom of bag with quilted satin.
CORD…With two threads make a chain 1½ yards long, turn. Make sc in 2nd ch from hook and in each ch across. Fasten off. Lace Cord through bag and lining twice. Sew ends of Cord securely together and pull up tight.
other patterns in leaflet: