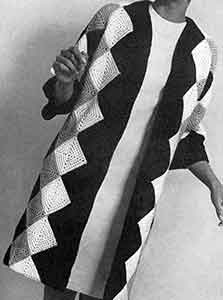 NOTE: Due to extra row worked on motif for Medium-Large size less motifs are re­quired for this size.
Sizes: Small, Medium-Large
Materials Required:
AMERICAN THREAD
"DAWN" KNITTING WORSTED
4 (5) – 4 oz. skeins Black
2 (3) – 4 oz. skeins each White, Gray
Plastic Crochet Hook Size H OR ANY SIZE HOOK WHICH WILL RESULT IN MOTIF GAUGE BELOW
GAUGE: Each motif is a 3½ (4) inch square.
Directions are given for Small (10-12) size.
Changes for Medium-Large (14-18) given in parentheses.
Work 6 (7) rows of skirt motif on Motif Suit Pattern working motifs in colors and amounts as shown on chart below. Working 6 Black, A Gray and 2 White motifs with 3 d c in one corner of each motif for underarm.
TO ASSEMBLE: Block each motif. Sew motifs tog through loops in back of each st of last row using any one color for sewing. Arrange motifs according to chart on this page. With Black work half motifs for Fronts, Neck and Sleeve edges as follows: HALF MOTIFS: Ch 3, 5 s c in 1st st of ch, cut yarn. Do not turn rows and cut yarn at end of each row. 2nd ROW: Work in s c and in back loop of sts working 2 s c in 1st and last st and 3 s c in center st, cut yarn. Repeat 2nd row 4 (5) times, finish all ends. Sew half motifs in place along each sleeve and front edge. Sew 3 half motifs at neck. Sew and ease 2 motifs at each side of front edge matching A to A, B to B and C to C as shown on chart.
EDGE: Working loosely with Black work a row of s c around front edges and neck, cut yarn. Join Black in 1st s c, work 1 sl st in each s c, cut yarn. Finish sleeve edges to correspond. Fold coat and sew side and sleeve seams. Fold motifs of lower edge in half for hem and blind st in place.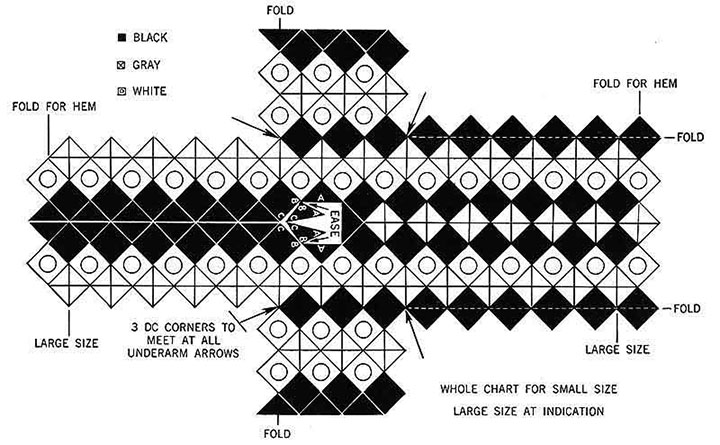 other patterns in leaflet: