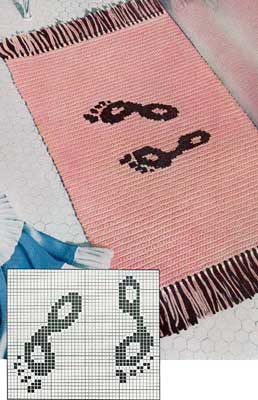 Materials Required: AMERICAN THREAD COMPANY
"AUNT LYDIA'S" HEAVY RUG YARN, Article 235
9 skeins Pink or color desired.
1 skein Black.
Aluminum crochet hook Size H.
Mat measures about 19 inches x 30 inches without fringe.
With Pink ch 70, s c in 2nd st from hook, 1 s c in each remaining st of ch, ch 1, turn.
2nd Row. 1 s c in each s c, ch 1, turn. Repeat the last row until there are 122 rows in all, cut yarn.
FRINGE: Cut Pink and Black strands 9 inches long. Using 1 strand, double in half, loop through st, draw ends through loop tightly. Repeat in each st across each short end alternating colors.
With Black, embroider foot prints according to chart using cross sts. Start 1st foot print in 22nd st from lower edge and 56th row from right hand side.
other patterns in leaflet: