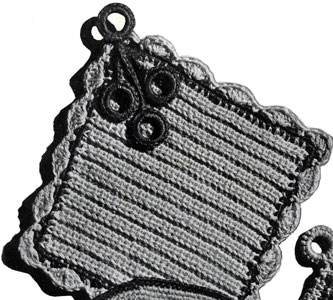 MATERIALS: J. & P. Coats or Clark's O.N.T. Pearl Cotton, Size 5 (Large Ball), 1 ball each of White and Red … Steel Crochet Hook No. 3 … 4 bone rings, ¾ inch in diameter.
Use double thread throughout
With White make a chain 8 inches long. 1st row: Sc in 2nd ch from hook and in each ch across until piece measures 5½ inches. Cut off remaining chain. Ch 2, turn. 2nd row: Half dc in each sc across. Ch 1, turn. 3rd row: Working in back loop of each half dc, sc in each half dc across. Ch 2, turn. Repeat 2nd and 3rd rows alternately until piece is square. Break off.
EDGING … 1st rnd: Attach Red and make sc closely around, making 5 sc in each corner. Join and break off. 2nd rnd: Attach White to center sc of any corner, ch 3, 5 dc in same sc (shell made), * skip 3 sc, sc in next sc, skip 3 sc, 6 dc in next sc (another shell made). Repeat from * around, making a shell in center sc of each cor­ner. Break off.
RINGS … With Red, sc closely around first ring. Join to first sc. Ch 10, sc closely around second ring. Join and break off. Work other 2 rings in same way and sew to corner of Pot Holder.
other patterns in leaflet: