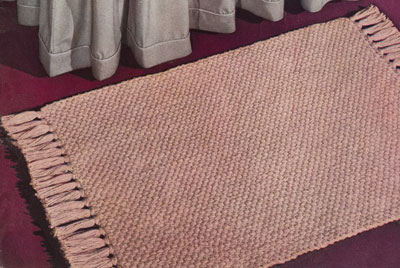 24 x 36 Inches
MATERIALS: Clark's O.N.T. Cotton Rug Yarn, 24 balls of Indian Pink … Clark's O.N.T. Rug Hook, Size G.
Starting at one short end with 2 strands of yarn, make a chain 30 inches long. 1st row: Sc in 2nd ch from hook and in each ch across until row measures 24 inches, being sure to have an even number of sc. Cut off remaining chain. Ch 1, turn. 2nd row: * Sc in next st, sc at base of next st (long sc made). Repeat from * across, ending with long sc. Ch 1, turn. Repeat 2nd row until piece measures 36 inches. Next row: Sc in first st, * ch 2, skip 1 st, sc in next st. Repeat from * across. Break off.
FRINGE … Cut 10 strands, each 10 inches long. Double these strands to make a loop. Insert hook in ch-2 loop and draw loop through. Draw loose ends through loop. Make a fringe in each ch-2 loop across. Trim ends evenly. Complete opposite end to corre­spond.
other patterns in leaflet: