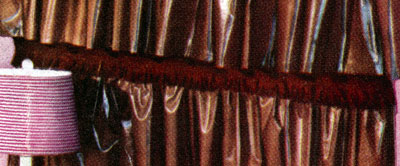 COATS & CLARK'S O.N.T. "SPEED-CRO-SHEEN" MER­CERIZED COTTON, Art. C.44: 3 balls of No. 131 Fudge Brown for a curtain strip 60 inches long (1 ball makes a strip of face 20 inches long includ­ing fringe).
Milwards Steel Crochet Hook No. 2/0 (double zero).
A hairpin lace staple 1 inch wide.
Make 3 strips of hairpin face slightly longer than width of curtain having the same amount of loops on each strip, see pattern book page.
To Join Strips: Keeping the twist in all loops, insert hook in first loop on first strip, retaining last loop on hook, insert hook in first loop on second strip and draw this loop through loop on hook (sl st made), insert hook in next loop on first strip and draw through loop on hook. Continue in this manner until all loops have been joined. Fasten last loop securely. Join next strip the same way.
HEADING ... 1st row: Attach thread to first free loop on first strip and keeping all loops straight, sc in same place, * ch 1, sc in next loop. Repeat from * across. Ch 1, turn. 2nd row: Sc in each sc and in each sp across. Ch 1, turn. 3rd row: Sl st in each sc across, holding edge in slightly. Break off.
FRINGE … Cut 5 strands, each 4 inches long, double these strands to form a loop, insert hook in first free loop on opposite side of edging and draw loop through, draw loose ends through loop and pull up tightly. Make a fringe in each loop across. Trim ends evenly. Sew edging neatly in place.
other patterns in leaflet: