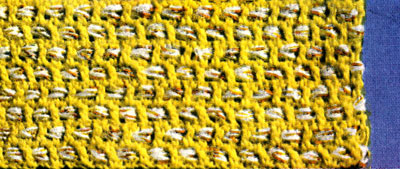 Suggested pattern for Seat and Bench Pillows
For approximate amounts of J. & P. Coats and Clark's O.N.T. Threads necessary for one chair seat cover or one bench cushion cover, see Chair Seat Cover, Bathroom Bench Cover, and Bedroom Bench Cover patterns.
Starting at lower edge with No. 10-A Canary Yellow and No. 7 hook make a chain slightly longer than length of bench. 1st row: Dc in 4th ch from hook, * ch 1, skip 1 ch, dc in next ch. Repeat from * across, having an even number of sps. Ch 4, turn. 2nd row: Skip first dc, * dc in next dc, ch 1. Repeat from * across, ending with dc in 2nd ch of turning chain. Ch 4, turn. Repeat 2nd row until piece meas­ures same as bench. Break off.
WEAVING … With 2/0 (double zero) hook and a double strand of No. M.1, make a chain slightly longer than long side of cover. Weave through first row of sps—under one dc and over next dc—to end of row. Make another chain and weave next row in same man­ner, going under dc's that were worked over on pre­vious row. Continue in this manner until all sps have been filled. Fasten all ends securely. Complete as for Bathroom Bench Cover pattern.
other patterns in leaflet: