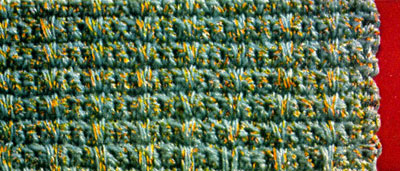 Suggested pattern for Seat and Bench Pillows
For approximate amounts of J. & P. Coats and Clark's O.N.T. Threads necessary for one chair seat cover or one bench cushion cover, see Chair Seat Cover, Bathroom Bench Cover, and Bedroom Bench Cover patterns.
With double strand of "Knit-Cro-Sheen" Metallic and 2/0 (double zero) hook, make a chain slightly longer than length of bench. 1st row: Sc in 2nd ch from hook and in each ch across until row measures same as bench, having a number of sc divisible by 3 and 2 more at end of row. Cut off remaining chain. Ch 1, turn. 2nd row: Sc in back loop of first 2 sc, * sc at base of next sc (long sc made), sc in back loop of next 2 sc. Repeat from * across. Ch 1, turn. 3rd row: Picking up both loops of each st, sc in each sc across. Ch 1, turn. Repeat 2nd and 3rd rows alter­nately until piece measures same as bench. Complete as for Bathroom Bench Cover pattern.
other patterns in leaflet: