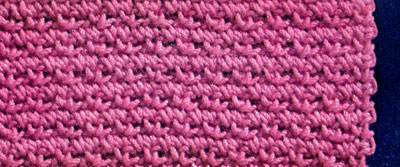 Suggested pattern for Seat and Bench Pillows
For approximate amounts of J. & P. Coats and Clark's O.N.T. Threads necessary for one chair seat cover or one bench cushion cover, see Chair Seat Cover, Bathroom Bench Cover, and Bedroom Bench Cover patterns.
Starting at long side, make a chain slightly longer than bench. 1st row: Sc in 2nd ch from hook, sc in each ch across, having an uneven number of sc. Ch 1, turn. 2nd row: Sc in first sc, * ch 1, skip next sc, sc in next sc. Repeat from * across. Ch 1, turn. 3rd row: Sc in each sc and in each sp across. Ch 1, turn. Repeat 2nd and 3rd rows alternately until piece meas­ures same as bench, ending with 3rd row. Break off. Complete as for Bathroom Bench Cover pattern.
other patterns in leaflet: