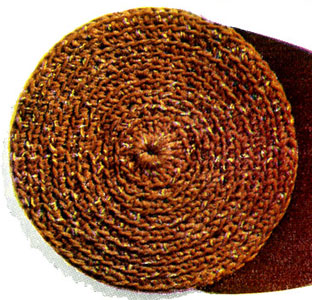 Suggested pattern for Round Pillows
The pillow requires approximately 8 balls of "Speed-Cro-Sheen." If you wish a smart metallic finish, buy 8 balls of "Knit-Cro-Sheen" Metallic and work with a strand of each.
SIDE (Make 2) … Starting at center with a strand each of "Speed-Cro-Sheen" and Metallic "Knit-Cro-Sheen," ch 5. Join with sl st to form ring. 1st rnd: Ch 3, 17 dc in ring. Join. Hereafter pick up back loop only. 2nd rnd: Sc in same place as sl st, * 2 sc in next dc (1 sc increased), sc in next dc. Repeat from * around, do not join rnds. 3rd rnd: Sc in each sc, increasing as necessary to keep work flat. Repeat 3rd rnd until piece measures 17½ inches in diameter. Join and break off. Complete as for Round Pillow S-573 pattern.
other patterns in leaflet: