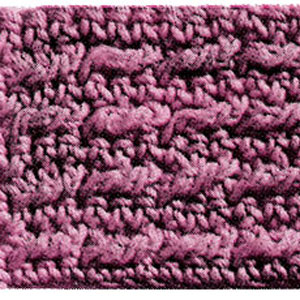 Suggested pattern for Square Pillow
For a 14-inch square pillow you will need approximately 7 balls of J. & P. Coats "Speed-Cro-Sheen" with Milwards Steel Crochet Hook No. 2/0 (double zero).
SIDE (Make 2) … Starting at bottom, make a chain to measure 16 inches. 1st row: Sc in 2nd ch from hook and in each ch across until row measures 14 inches, having a number of sc divisible by 3 and 2 more at end of row. Cut off remaining chain. Ch 1, turn. 2nd row: Sc in first sc, skip next 2 sc, * tr in next sc, sc in each of the 2 skipped sc, skip next 2 free sc. Repeat from * across, ending with sc in last sc. Ch 1, turn. 3rd row: 2 sc in first sc (1 sc increased), sc in each st across to within last 2 sts, dec 1 sc—to dec 1 sc, work off last 2 sts as 1 sc. Ch 1, turn. Repeat 2nd and 3rd rows alternately until piece is square, ending with the 3rd row. Break off. Complete as for Blue Square Pillow pattern.
other patterns in leaflet: