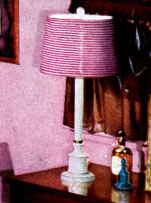 J. & P. COATS "KNIT-CRO-SHEEN" METALLIC, Art. A.64: 8 balls of No. M.46-A Mid Rose, and
COATS & CLARK'S O.N.T. "SPEED-CRO-SHEEN" MER­CERIZED COTTON, Art. C.44: 2 balls of No. 1 White.
Milwards Steel Crochet Hook No. 2/0 (double zero).
2 parchment lampshades, 10 inches in diameter at top: 12 inches in diameter at bottom and 8½ inches in depth.
GAUGE: 7 sts make 1 inch; 4 rnds make 1 inch; 7 sl sts make 2 inches.
1st rnd:Sc in same place as sl st, * ch 1. skip next ch. sc in next ch. Repeat from * around, ending with ch 1. Join to first sc. 2nd rnd: Ch 3, * half dc in next sc, ch 1. Repeat from * around. Join to 2nd ch of ch-3. 3rd rnd: Ch 1, sc in same place as sl st, * ch 1, sc in next half dc. Repeat from * around. Join to first sc (this is center back). Repeat 2nd and 3rd rnds alternately until piece measures same depth as lamp shade. Break off. Place piece on lamp shade.
TRIM … With White ch 1, holding loop on hook, insert hook in first sp on 2nd rnd and, holding thread in back of work, * thread over and draw thread through loop on hook (sl st made—do not pull this loop too tight), insert hook in next sp on same rnd. Repeat from * around until all sps on 2nd rnd have been covered. Break off. Join to first sl st. Complete 4th and 6th rnds in same manner. Remove piece from lamp shade and complete every other rnd in same manner (keeping the same gauge on sl sts as worked previously) until all half dc sps have been worked. Fasten all ends securely.
other patterns in leaflet: