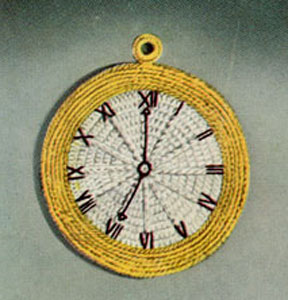 COATS & CLARK'S O.N.T. "SPEED-CRO-SHEEN" MER­CERIZED COTTON, Art. C.44: 1 ball each of No. 1 White and No. 10-A Canary Yellow.
J. & P. COATS OR CLARK'S O.N.T. SIX STRAND EM­BROIDERY FLOSS, Art. A. or B.11, 1 skein of No. 12 Black.
Milwards Steel Crochet Hook No. 2/0 (double zero).
1 bone ring.
GAUGE: 6 dc make 1 inch: 3 rnds make 1 inch.
Starting at center with White, ch 4. 1st rnd: 11 dc in 4th ch from hook. Join. 2nd rnd: Ch 3 (to count as dc), dc under ch on first rnd (a raised dc); * dc in next dc, dc under bar of same dc where last dc was made. Repeat from * around (12 dc and 12 raised dc). Join. Make a raised dc over each raised dc and dc over each dc, increasing 1 dc—to inc 1 dc, make 2 dc in 1 dc—in each dc section until piece measures 6 inches in diameter. Join and break off at end of last rnd. Attach Yellow and make sc in each dc around, increasing wherever necessary to keep work flat until piece meas­ures 8 inches in all. Join and break off.
Make another piece the same way. With Black em­broider numerals as shown. With wrong sides facing, attach Yellow and, working through both thicknesses, make sc in each sc around. Join and break off. With Yellow, sc closely around bone ring. Sew ring in place.
other patterns in leaflet: