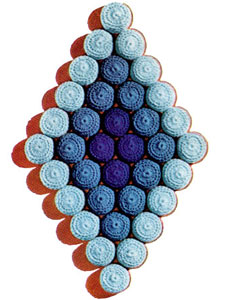 J. & P. COATS "KNIT-CRO-SHEEN," Art. A.64: 1 ball each of No. 68 Skipper Blue, No. 70 Blue Jewel and No. 25 Crystal Blue.
Milwards Steel Crochet Hook No. 7.
36 bottle caps.
BOTTLE CAP COVER (Make 4 Skipper Blue, 12 Blue Jewel and 20 Crystal Blue) ... Starting at center, ch 4. 1st rnd: 19 dc in 4th ch from hook. Join to top of ch-4. 2nd rnd: 2 sc in same place as sl st, * sc in next 4 dc, 2 sc in next dc. Repeat from * around. Join. 3rd to 6th rnds incl: Sc in each sc around. Join. 7th rnd: Ch 3, dc in each sc around. Join and break off, leaving a 6-inch length of thread, insert bottle cap and sew up opening by gathering last rnd. Sew motifs together as shown in illustration.
other patterns in leaflet: