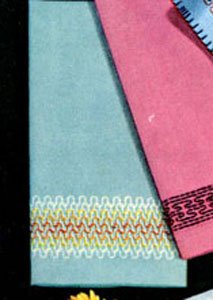 J. & P. COATS or CLARK'S O.N.T. SIX STRAND EM­BROIDERY FLOSS, Art. A. or B.11: 1 skein each of No. 1 White, No. 9 Yellow, No. 11 Orange, No. 38 Dk. Orange and No. 75 Burnt Orange.
Milwards Tapestry Needle No. 19.
A huck towel or ⅔ yard of huck toweling, 16 inches wide.
If necessary, turn under a 1¼ inch hem at each end of towel. Working on horizontal loop side and start­ing above hem, follow Diagram 6, repeating from A to B for design.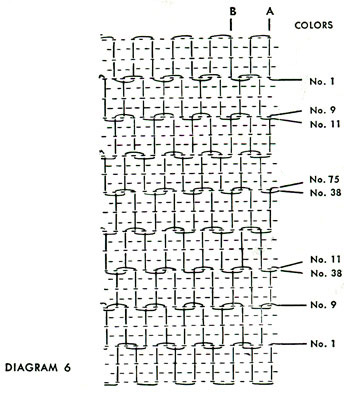 other patterns in leaflet: