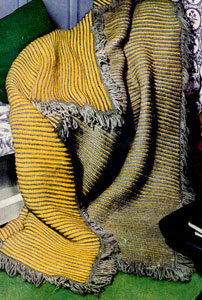 Materials Required: AMERICAN THREAD COMPANY "DAWN" KNITTING WORSTED, Article W 11 or W 15 or W 41 or W 42
41 ozs. Lt. Gray
44 ozs. Amber
Plastic crochet hook No. 10 or aluminum J
The entire afghan is worked in s d c worked very loosely, (s d c: yarn over hook, insert in stitch, pull through, yarn over and work off all loops at one time). Cut yarn at end of each row and start 2nd Color at end of previous row. With Gray, crochet a chain about 55 inches, keeping ch slack while measuring, work 1st s d c in 3rd ch from hook, 1 s d c in each remaining st of ch, ch 1 at end of row and tighten yarn, slip 2nd color through loop and yarn of pre­vious color, ch 2, turn, cut the yarn of previous row leaving an end to fasten.
2nd Row—Pick up a single loop of 2nd s d c in back of work of previous row, work 1 s d c in each s d c in same manner as in 1st row, working last s d c in end ch. Work should form a chain ridge, ending row in same manner. Pick up the 1st Color and work a row of s d c in same manner as in 2nd row.
Repeat 2nd row alternating Colors, 1 row of each Color until work measures about 70 inches ending with the same Color as the 1 st row.
FRINGE: With Gray, work 1 s c in 1 st s d c, pull up a 4" loop keeping loop on hook, * work 1 s c in next st, pulling up a 4 inch loop on hook, repeat from * all around always keeping a few loops on hook to gauge size. Fringe is worked all around afghan working about 5 s c in corners. Cut loops of fringe or leave loops uncut it desired.
Other great patterns from Beautiful, Beautiful Afghans, Book No. 82.
Crochet Patterns
Flower Afghan
Indian Stripe Afghan
Square Dance Afghan
Shawl Afghan
Chevron Afghan
Granny Afghan
Victorian Afghan
Crocheted Fan Afghan
Two Toned Reversible Afghan
Charleston Garden Afghan