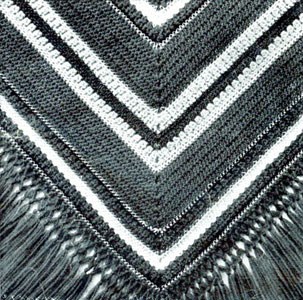 Size 36 inches x 36 inches without Fringe
Materials Required: AMERICAN THREAD COMPANY "DAWN" BRAEBURN SPORT YARN, Article W 74
or
"DAWN" ANTI-SHRINK, ANTI-MATTING SOCK YARN, Article W 9
or
"DAWN" SOCK & SWEATER YARN, Article W 64
or
"DAWN" PERMANENT "CRIMP SET" NYLON, Article N 6
12 ozs. for Shawl.
2 ozs. for Shawl.
and
"STAR" RAYON CROCHET, Article 700
5 balls for Shawl.
2 balls for Shawl.
2 balls for Shawl.
Plastic crochet hook No. 4 or F
Work 1st 74 rows same as square dance afghan.
75th Row—Attach Scarlet and work 1 s c in each s c, working 3 s c in the ch 3 loop at each corner, join, cut yarn.
FRINGE: Wind Scarlet over a 10 inch cardboard, cut loops at one end. Using 2 strands, double in half and knot fringe in every other st across each side and one in each of the 3 sts at each corner around entire shawl. * Take half of one group of fringe and half of next group of fringe, knot together ¾ inch from 1st row of knots, repeat all around, then repeat from * for another row of knots. Trim fringe evenly.
Other great patterns from Beautiful, Beautiful Afghans, Book No. 82.
Crochet Patterns
Flower Afghan
Indian Stripe Afghan
Square Dance Afghan
Shawl Afghan
Chevron Afghan
Granny Afghan
Victorian Afghan
Crocheted Fan Afghan
Two Toned Reversible Afghan
Charleston Garden Afghan