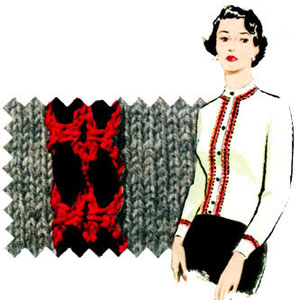 COATS & CLARK'S O.N.T. "SPEED-CRO-SHEEN" MER­CERIZED COTTON, Art. C.44: 2 balls of No. 126 Spanish Red.
Milwards Steel Crochet Hook No. 2/0 (double zero).
A cardigan ... 2 yards of black velvet ribbon, ¼ inch wide ... Jet buttons.
Starting at narrow edge, ch 4. 1st row: Dc in 4th ch from hook. Ch 3, turn. 2nd row: Dc in dc. Ch 3, turn. Repeat 2nd row until piece is long enough to reach across front, around neck and other front. Break off. Now work across long side as follows: Attach thread to first sp, sc in same sp, * ch 3, sc in next sp. Repeat from * across. Break off. Complete other side the same way.
Lace velvet ribbon through loops on each side. Tack ends securely. Sew Braid in place. Make a piece for each cuff the same way. Sew in place. Sew on jet buttons.
Other great patterns from Fashions in Quick Crochet, Book No. 302.
Crochet Patterns
Hat & Bag Set
Hat, Bag & Collar Set
Striped Hat
Ribbon Trim Cloche
Crocheted Jacket
Braid & Buttons Trim
Skirt Trim
Ribbon Braid Trim
Ball Fringe Trim
Braid Trim
Braid & Pearl Trim
Sequin Trim Hat
Striped Bag & Purse
Embroidered Bolero
Checkerboard Bag
Knitting Patterns