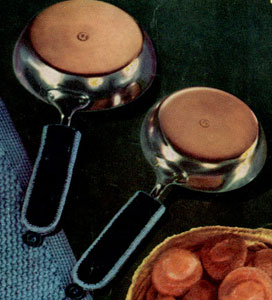 J. & P. COATS "KNIT-CRO-SHEEN," Art. A.64: 1 ball each of No. 12 Black and No. 76 Robinette.
Milwards Steel Crochet Hook No. 7.
2 bone rings.
Starting at narrow end with Black, ch 14. 1st row: Sc in 2nd ch from hook and in each ch across. Ch 1, turn. 2nd row: Sc in each sc across. Ch 1, turn. Repeat 2nd row until piece measures 6 inches. Next row: Dec 1 sc—to dec 1 sc, work off 2 sc as 1 sc—sc in each sc across to within last 2 sc, dec 1 sc. Ch 1, turn. Repeat last row 3 more times (5 sc on last row). Break off.
EDGING ... 1st row: Attach Robinette to end st of first row, sc closely across long side, around rounded end and other long side. Break off. 2nd row: Attach Robinette to first sc on Edging, sc in each sc, making increases wherever necessary across rounded end to keep work flat. Break off.

Make another piece the same way. Cut 2 pieces of felt the same size as crocheted pieces and line. Sew Robinette edges together. With Black sc closely around bone ring. Sew ring in place. Make another cover the same way.
other patterns in leaflet: