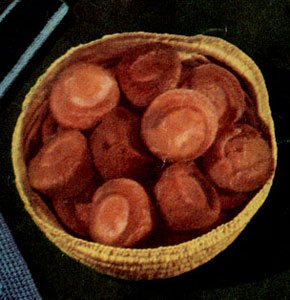 COATS & CLARK'S O.N.T. "SPEED-CRO-SHEEN" MER­CERIZED COTTON, Art. C.44: 3 balls of No. 126 Spanish Red for Red Basket: or 6 balls of No. 10-A Canary Yellow for Yellow Basket.
Milwards Steel Crochet Hook No. 1.
8 yards of red, or 12 yards of yellow upholstery cord No. 4.
BOTTOM ... Wind thread several times tightly around cord, 14 inch from end. Tie ends securely. Break off. 1st rnd: Starting at center, ch 6. Join with sl st to form ring. Insert hook in ring and, working over cord, make 30 sc in ring. Draw cord tightly. 2nd rnd: Work­ing over cord as before, make 3 sc in each sc around. 3rd rnd: 2 sc in each sc around. Continue in this man­ner, making necessary number of sc in each sc around to cover cord completely—being sure to draw cord tightly to maintain stiffness—until piece measures 7½ inches in diameter for Red basket, or 9 inches for Yellow basket.
SIDE PIECE ... 1st rnd: Picking up back loop only, sc in each sc around. 2nd and 3rd rnds: Sc in each sc around. Mark off a 3-inch sp on 3rd rnd on each side for handles. 4th rnd: Sc in each sc to within marked sp, then, working over cord only, sc closely for 4 inches, skip marked sp, sc in each sc around to next marked sp, make another handle the same way, sc in each remaining sc on rnd. Taper cord by cutting each of 3 sections of cord inch longer than previous section. Sc in each sc until cord is completely covered. Sl st in next sc. Break off.
other patterns in leaflet: