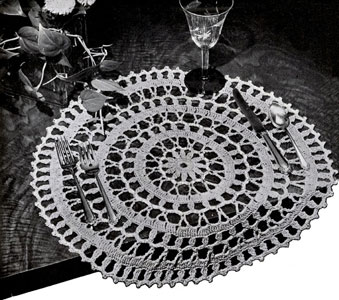 So new, so different! Different, too, the trick of placing doily or mat to hang over table's edge. Belastraw—lovely, too, for bureau scarves.
MATERIALS REQUIRED:
DRITZ Luxury Belastraw Art. 110 or DRITZ Sparkle Belastraw Art. 146, 5 tubes
DRITZ Metallic Yarn Art. 114, 2 tubes
DRITZ Metal Crochet Hook No. 2
The above amount of material is sufficient to make 4 place mats about 19½" in diameter.