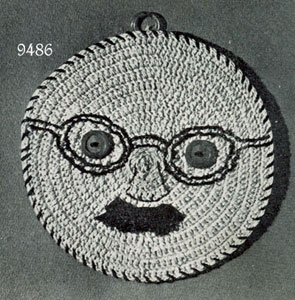 MATERIALS: J. & P. Coats or Clark's O.N.T. Pearl Cotton, Size 5, 3 balls of Ecru. Scraps of Black ... Steel Crochet Hook No. 3 ... 2 buttons for eyes ... A bone ring.
Use double thread throughout.
Starting at center, ch 4. 1st rnd: 7 dc in 4th ch from hook. 2nd and 3rd rnds: Picking up back loop only, make 2 dc in each dc around (7 dc in­creased). 4th to 12th rnds incl: Dc in each dc around, increasing as neces­sary to keep work flat. At end of 12th rnd, sl st in next 2 dc. Break off.
Embroider nose with single strand of Black, eyeglasses with double strand of Black. Sew on buttons for eyes. Em­broider lips in satin stitch (over 2 rounds), using Black. For mustache, cut a strand 2 inches long, double this strand to form a loop, insert hook through upper part of lip and draw loop through, draw loose ends through this loop and pull tightly. Work in this manner across upper lip. For Padding, see patternbook page. Overcast edges together with double strand of Black. Sew on bone ring.
Other great patterns from Pot Holders, Book No. 243.
Crochet Patterns
Round Potholder
Cat Potholder
Square Motif Potholder
Square Stripes Potholder
Snail Potholder
Square Solid Potholder
Four Pointed Star Potholder
Man's Face Potholder
Birdhouse Potholder
Octagon Potholder
Window Pane Potholder
Round Scallop Potholder
Rose Potholders
Single Flower Potholder
Floral Potholder
Clock Potholder
Round Spokes Potholder
Teddy Bear Potholder
Dice Potholder
Round Gears Potholder
Broom Potholder
Kaleidoscope Potholder
Round Stripes Potholder
Lattice Potholder
Checkerboard Potholder
Square Lines Potholder
Diamond Potholder