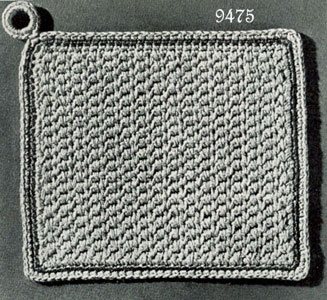 MATERIALS: J. & P. Coats or Clark's O.N.T. Pearl Cotton, size 5, 3 Balls of Ecru. Scraps of Green ... Steel Crochet Hook No.3 ... A bone ring.
GAUGE: 5 sts make 1 inch; 6 rows make 1 inch

Use double thread throughout.
With Ecru, ch 35 (to measure 6½ inches). 1st row: Sc in the 2nd ch from hook and in each ch across. Ch 1, turn. 2nd row: * Sc in next st, sc at base of next st (long sc made). Repeat from * across. Ch 1, turn. Repeat 2nd piece until piece measures 5¼ inches.
Border ... 1st rnd: Work sc closely all around outer edges. Join drop Ecru. 2nd rnd: Attach Green and make sc in each sc around, having 3 sc at each corner. Join and break off . 3rd rnd: Pick up Ecru and work as for 2nd rnd. Sc closely in bone ring, join and break off. Sew ring at one corner.
Other great patterns from Pot Holders, Book No. 243.
Crochet Patterns
Round Potholder
Cat Potholder
Square Motif Potholder
Square Stripes Potholder
Snail Potholder
Square Solid Potholder
Four Pointed Star Potholder
Man's Face Potholder
Birdhouse Potholder
Octagon Potholder
Window Pane Potholder
Round Scallop Potholder
Rose Potholders
Single Flower Potholder
Floral Potholder
Clock Potholder
Round Spokes Potholder
Teddy Bear Potholder
Dice Potholder
Round Gears Potholder
Broom Potholder
Kaleidoscope Potholder
Round Stripes Potholder
Lattice Potholder
Checkerboard Potholder
Square Lines Potholder
Diamond Potholder