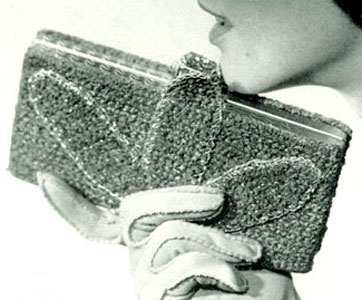 Materials for both Cap and Bag:
3 Skeins FAIRKNIT Dress Chenille (mc)
2 Skeins FAIRKNIT Chen-Glow (chenille and metallic) (cc)
1 Spool FAIRKNIT Brocade
Steel crochet hook #0
FAIRKNIT Slack Bag Frame #900
BAG
Using mc, ch 46.
Row 1: sc in 2nd ch from hook, sc in each ch across. Ch 1, turn.
Row 2: sc in each sc across. Ch. 1, turn. Repeat row 2 until piece measures 9¼" or until long enough to cover frame. Fasten off. Make a center and petals as for cap. Sew center in center of bag piece, arranging petals on each side. Sew to frame, leaving tip of center petals free over clasp.
Other great patterns from Fashion Stoles and Accessories, Book No. 17.
Crochet Patterns
Half Shell Ribbon Hat
Fold-Over Bag
Ribbon Hat
Cinch Belt
Purse A'Glitter
Coronation Hat
Juliet Cap
Juliet Bag
Straw Pixie Beret
Straw Pixie Belt
Polka Dot Cloche
Polka Dot Bag
Three Fold Bag
Mamie's Hat
Three-Sided Bag
Turned Up Brim Hat
Drawstring Bag
Tippy Hat
Ribbon Cloche
Ribbon and Metallic Bag
Crocheted Ribbon Stole
Ribbon Cute Clip-On Hat
Knitting Patterns
Tri-Shape Loop Stole
Silk Corde Ascot
Anchor Corde Hat
Lacy Stole with Angora Pockets
Lacy Poodle Stole
Fringed Angora Triangular Stole
Ribbon Bolero
Poodle Cape-Stole