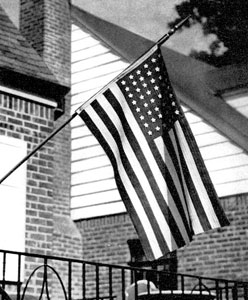 MATERIALS for No. X-106
J. & P. COATS KNIT-CRO-SHEEN, 2 balls of Blue, 3 balls of Red and 4 balls of White.
Steel crochet hook No. 9.
When blocked, flag measures about 24 x 36 inches.
GAUGE: 9 sts make 1 inch; 3½ rows make 1 inch.
Starting at bottom, with Red make a ch 45 inches long (8 ch sts to 1 inch). 1st row: Dc in 4th ch from hook and in each ch until row measures 34 inches. Cut off remaining ch. Ch 3, turn. 2nd row: Dc in each dc. Ch 3, turn. Repeat 2nd row 5 more times, omitting turning ch-3 at end of 7th row. (This completes 1 stripe; stripe must measure 2 inches.) Fasten off. Attach White, ch 3 and work 7 rows. Fasten off. Attach Red and make another stripe. Now make a White stripe, a Red stripe and a White stripe. Fasten off.
Next row: Attach Red and work across to within 14 inches from end of row, then thread over, insert hook in next dc and pull loop through; thread over and draw through 2 loops; let Red hang, pull Blue through remaining 2 loops and, with Blue, make dc in each remaining dc across. Ch 3, turn. Work with Blue over Blue sts and Red over Red sts, changing colors as before. Work in this manner, alternating Red and White stripes, until 7 short stripes (4 Red and 3 White) are completed. Then work a row of sl st, using color to correspond with previous row. Fasten off. With Red sl st along opposite long side. Fasten off.
STAR (Make 96) ... Ch 2, 10 sc in 2nd ch from hook; join. Next rnd: * Ch 4, sc in 2nd ch from hook, h dc in next ch, dc in next ch, skip 1 sc, sl st in next sc (a point). Repeat from * around (5 points). Join and break off. Sew 6 x 8 stars on each side of Blue back­ground (see illustration).
BAND ... Cut a strip of heavy White material, 2½ x 25 inches. Bind back edge of Flag with this strip. Cut a ¼-inch eyelet, 1 inch from ends of band, and overcast with over-and-over sts. Block Flag to measure 24 x 36 inches.
other patterns in leaflet: