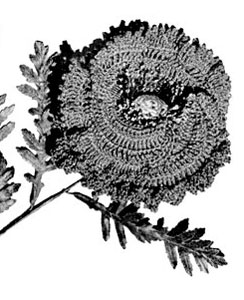 MATERIALS:
CLARK'S O.N.T. or J. & P. COATS PEARL COTTON, size 5, 2 balls of Red.
Clark's O.N.T. or J. & P. Coats Six Strand Embroidery Floss, 2 skeins of Yellow.
Steel crochet hook No. 6.
2 pieces of heavy flower wire, each 18 inches long.
Tying wire.
Artificial poppy leaves and stamens.
Green rubberized tape.
2 buttons, ¾ inch in diameter.
This amount of material is sufficient for 2 poppies.
PETAL (Make 3) ... Starting at base, ch 4. 1st row: 12 dc in 4th ch from hook. Ch 1, turn. 2nd row: 2 sc in 1st dc, sc in each dc across, 2 sc in top st of turning ch. Ch 3, turn. 3rd row: 2 dc in 1st sc, dc in each sc across, 3 dc in last sc. Ch 1, turn. 4th to 7th rows incl: Repeat the 2nd and 3rd rows alternately 2 more times, increasing 5 dc evenly apart across center of row—to inc, make 2 dc in same place. Ch 1, turn. 8th row: Sc in next 3 sts, h dc in next st, dc in next st, tr in each st across, increasing 5 tr evenly—to inc, make 2 tr in same place—to last 5 sts. Work over last 5 sts to correspond with begin­ning. Ch 1, turn. 9th row: Work as for previous row, making 5 (instead of 3) sc at both ends of row. Ch 1, turn. 10th row: * 2 sc in next st, ch 4, sc in 4th ch from hook (p made). Repeat from * 9 more times; 2 h dc in next st, p, 2 dc in next st, p, ** 2 tr in next st, p. Repeat from ** across to last 12 sts. Work over these 12 sts to correspond with beginning. Fasten off.
CENTER ... With Six Strand, ch 2. 1st rnd: 6 sc in 2nd ch from hook. Do not join rnds. 2nd rnd: 2 sc in each sc around. Now continue in sc rnds, increasing 6 sc in each rnd until crocheted piece measures same as button—to inc an sc make 2 sc in 1 sc. Work 3 more rnds without increasing. Fasten off.
FINISHING ... Fasten button to end of heavy wire. Push button into crocheted center and sew opening closed. Group stamens around center, fastening them with tying wire. Arrange petals around center and fasten securely by sewing through to the back of center. If desired, an artificial calyx can be slipped onto stem wire and pushed up close to back of petals. Wind stem with rubberized tape, inserting wired ends of leaves at desired intervals.
other patterns in leaflet: