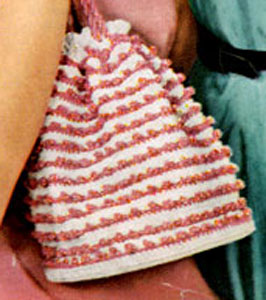 Materials for both hat and bag:
COATS & CLARK'S O.N.T. "SPEED-CRO-SHEEN" MER­CERIZED COTTON, Art. C.44: 3 balls of No. 1 White; and
J. & P. COATS "KNIT-CRO-SHEEN" METALLIC, Art. A.64: 5 balls of No. M.46-A Mid Rose.
Milwards Steel Crochet Hook No. 2/0 (double zero).
¼ yard of pink felt for lining.
Use 1 strand of "Speed-Cro-Sheen" and a double strand of "Knit-Cro-Sheen" Metallic throughout.
GAUGE: 5 sc make 1 inch; 5 rnds make 1 inch.
BAG ... Starting at center of bottom with White, ch 2. 1st rnd: 6 sc in 2nd ch from hook. 2nd rnd: 2 sc in eac h sc around. Sc in each sc, increasing 6 sc evenly on each rnd until piece measures 6 inches in diameter. Work without increasing for 2 more rnds, sl st in next sc, drop White.
SIDE PIECE ... 1st rnd: Attach Mid Rose, sc in first 3 sc, * picot, sc in next 3 sc. Repeat from * around. Join. Drop Mid Rose. 2nd and 3rd rnds: Pick up White, sc in each sc around. Join. Drop White at end of 3rd rnd. Continue to work in pattern, having picots fall between picots on previous picot rnd, until side measures 7 inches deep, ending with 2 White rnds. Do not drop White. Next rnd: Ch 4, * skip 1 sc, dc in next sc, ch 1. Repeat from * around. Join. Following rnd: Sc in each dc and in each sp around. Join and break off.
Line Bag with felt, having lining end just below ch-1 sps at top.
CORD (Make 2) ... Cut 8 strands of Mid Rose, each 2½ yards long, twist strands tightly, then double these strands and give them a twist in the opposite direction. Knot ends securely.
Draw Cords through sps at top of Bag. tie ends, leaving 1½ inches free for tassel. Trim ends evenly.
Other great patterns from Hats and Bags, Book No. 310.
Crochet Patterns
Sparkling Beaded Dutch Cap
Jeweled Fez
Sparkling Cloche
Ripple Brim Hat
Sparkling Sailor Hat
Roll Brim Hat
Sparkling Fishnet Hat
Sparkling Ponytail Cap
Sparkling Beanie
Pigtail Beanie
Sparkling Beaded Dutch Bag
Jeweled Bag
Sparkling Bag I
Ripple Brim Bag
Sparkling Sailor Bag
Roll Brim Bag
Sparkling Bag II

Knitting Patterns