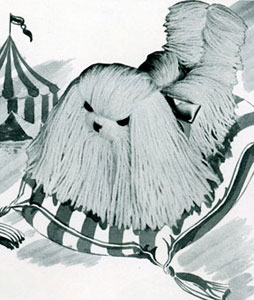 MATERIALS REQUIRED—American Thread Company "Dawn" Shetland Floss or Pompadour Yarn.
2 Balls White for the body and 1 yd. each of Black and Red for the face.
1 Box Kapok—1 yd. narrow white tape, 10 inches light wire.
2 Buttons for eyes.
BODY OF DOG. Cut a card board 3x6 inches—Place over this Kapok padding about 3 inches thick and cover with White material placing the sewing on top where it will be covered with wool.
HEAD AND NECK. Cut a piece of material 6x6 inches fold in half and sew one side and across top rounding it at top edge. Fill very full with Kapok and sew to lower part of body starting about 2 inches from one narrow end.
EARS. Cut 130 strands of yarn 14 inches long tie through the center and sew to top of head crossways.
Cut 100 strands of yarn, 14 inches long, sew strands at one end to a tape 1½ in. long and sew this end firmly to back of lower part of neck, bring wool forward over top of head and tack to front of head about ½ inch down from top making the stitch about 1 inch wide. Cut 75 strands of yarn 12 inches long, tie through the center, lay crossways for whiskers and tack to head about 1½ inches from the 1st tacking.
BACK. Cut 150 strands of yarn, 9 inches long. Cut a 4½ inch length of tape. Lay yarn across tape and sew to tape with a ch st.
TAIL. Cut a wire 10 inches long, double it and cover with tape catching the wire at top to prevent its slipping. Cut 4 inch lengths of yarn and sew to both sides of tape, 4 lengths at a time. Sew tail in position and attach back to body.
Trim all yarn even with the lower edge of body. Fasten eyes in position and embroider face, work the nose in black and the mouth with red.
other patterns in leaflet: