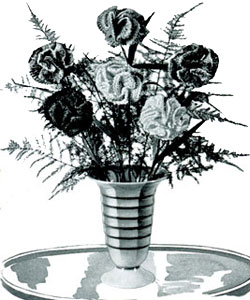 MATERIALS REQUIRED — American Thread Company Sillateen Sansil.
1 Ball of Flower Shade will make 2 Flowers. 1 Ball of Green will be sufficient for 12 flowers. Colors used in Bouquet are Bright Red, Pink, White and Shaded Dk. Pinks.

Steel Crochet Hook No. 5.

1 Bunch of Artificial Leaves.
With Green ch 3, join to form a ring, ch 1 and work 10 s c into ring, join.
2nd Round—Ch 1, 2 s c in each s c, join, ch 1 and work 6 rounds even.
Attach color, * ch 7, skip 1 s c, s c in next s c repeat from * around row. (10 loops.)
Next Round—Sl st into loop, ch 5, 20 d tr c in each of the 10 loops, join.
Next Round—* ch 2, s c into next st, repeat from * all around. Break thread.
Fasten a knot into wire and pull through calyx, fill calyx with cotton and sew to­gether under flower.
Wind thread around wire or cover with rubber tissue tape.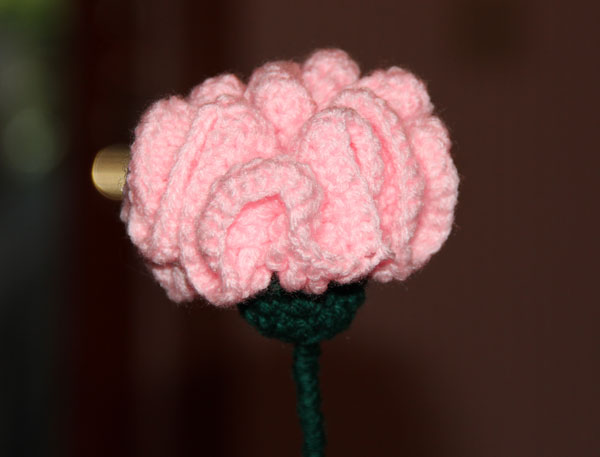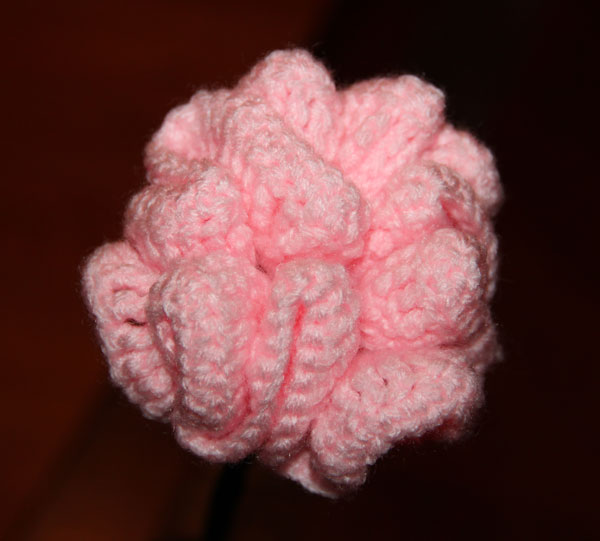 other patterns in leaflet: