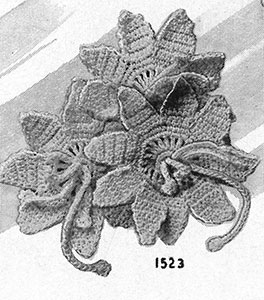 MATERIALS REQUIRED—American Thread Company "Star" Crochet Cotton.
1 Medium Ball Size 20 White.
Steel Crochet Hook No. 11 or 12.
Ch 8, join to form a ring, ch 1 and work 20 s c into ring.
2nd Row—Ch 4, 1 d c in each s c with ch 1 between each d c.
3rd Row—Ch 1, 2 s c in each ch 1 loop.
4th Row—Ch 1 and begin petal, work 5 s c, ch 1, turn.
Next 2 Rows—Increase one st, at the beginning of each row and work 2 more rows on 7 s c then de­crease one st at beginning of each row until one st remains. Sl st down side of petal and work 7 more petals.
Stamens. Ch 25, pick up the next 5 sts, pull through all loops on needle and sl st in each remaining st of ch, work 2 stamens of 18 chs each, 2 stamens of 12 chs each. Sl st through the group of stamens break thread leaving an end to sew. Sl stamens through center of flowers and fasten on the wrong side. Work 2 more flowers.
Cut a circle of cardboard about 1¼ inch in diameter, cover it with a piece of White material, sew flowers to backing and attach clip or a safety pin in back for fastening.
other patterns in leaflet: