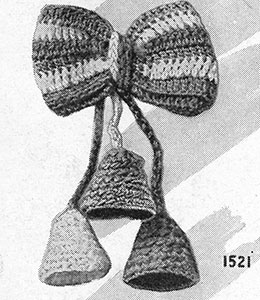 MATERIALS REQUIRED—American Thread Company Sillateen Sansil.
1 Ball each of Bright Red, Marine Blue and White.
Steel Crochet Hook No. 9 or 10.
BELL. With a double strand of thread, ch 5, join to form a ring, ch 1, 2 s c in each st of ch and work 2 rows of s c even (pick up the back loop of st only).
4th Row—Increase in every other st and work 1 row even. Repeat the last 2 rows.
The Clapper & Ch. Take a 36 inch length of double strand of thread in a different color from the bell, ch 2, work 5 s c into 1st st of ch, join and sl st into 3rd s c to draw stitches together, ch 7 and sl thread through ch to fasten st, draw threads through top of bell and crochet chs on remainder of thread. Work
2 more bells, one in each color.
BOW KNOT. With a single strand of Red Ch 52, d c in 4th st from hook, 1 d c in each st of ch (work should now measure about 4½ inches). Ch 3, turn and work 1 row White, 1 row Blue then repeat the 3 stripes.
Fold band so it meets in the center and tack to form bow. Wrap the 3 cords of the bells over the center to form knot of bow and fasten in back. Attach safety Pin in back for fastening.
other patterns in leaflet: